Groningen (Gr) part 3/3
This big house in rich Manneristic style dates from 1624 and was probably designed by local architect Garwer Peters.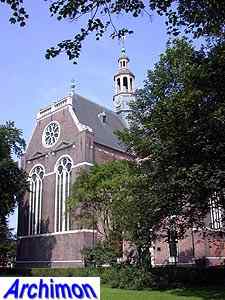 The Nieuwe Kerk ('new church'), finished in 1665, is more or less a copy of the Noorderkerk in Amsterdam, which in its time was often considered to be the perfect protestant church. The version in Groningen smaller but taller than its example in Amsterdam.
The Gardepoort is a gate that was formed in 1639 out of a small passage.
The Prinsenhof, originally built as a monastery in 1439 and from 1568 until 1576 the residence of the first bishop of Groningen. After Groningen took the side of the Reformation it became the palace of the stadtholders, who resided here until 1795. The complex, which was extensively modified in 1727, now houses the provincial broadcasting station.
The provinciehuis, or building of the provincial government, was built in 1915-1917 in neo-Renaissance style, designed by architect J.A.W. Vrijman and incorporating several older buildings.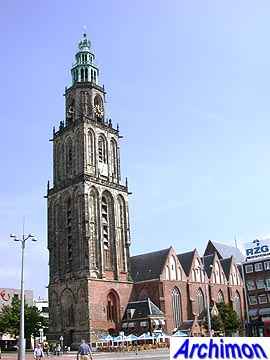 The Martinikerk is a part Romanogothic, part Gothic church with a tall Gothic tower, which has become the symbol of the city. The church was once the cathedral of the short-lived diocese of Groningen, but has been in protestant hands ever since 1594.
The town hall replaced its Gothic predecessor which was demolished in 1775. In 1774 Jacob Otten Husley won the competition for the new building, but because of financial problems work didn't start until 1793, when the design could be built in a simplified form. In 1810 it was finally finished.
The gold-office owes its name to the period from 1814 until 1887, when it was used for determining the value of gold and silver. In 1635 however it was built as a tax-collector's office. It is one of the most important examples of Mannerism in Groningen.
Go to part 1 2 3 next
Back to the Province of Groningen