Groningen (Gr) part 2/3
The post-office is one of several public buildings in Groningen that were designed by C.H. Peters, who was born in this city. It's a building in his usual neo-Gothic style and was built in 1908.
Behind this Gothic facade from the 15th century is a building that is about a century older. It has had many different functions, including that of a brewery and a warehouse. It's now a museum.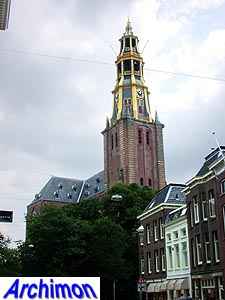 The Der Aa-kerk, or simply A-kerk, is a Gothic church that in catholic times was dedicated to Mary and St. Nicolaas. An originally Romanogothic church was rebuilt into a Gothic one, of which the tower and part of the nave collapsed in 1710, after which these parts were replaced by the current, colourful tower.
The korenbeurs or corn-exchange was the third building with that function at this location. It was designed in neo-Classical style by city-architect J.G. van Beusekom and built in 1863-1865.
The Academybuilding or main building of the university replaced an earlier building which was destroyed by fire in 1906. In 1907-1909 this building in neo-Renaissance style, designed by J.A.W. Vrijman, was built. The town hall of Bremen (Germany) was taken as an example for this design.
This former tax-collector's office dates from 1913. The architect copied the Gothic facade of the former town hall, which was demolished in 1775.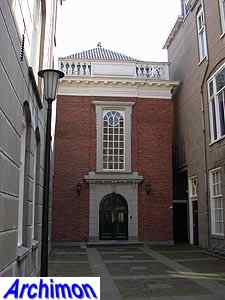 The mennonite church is a building in simple neo-Classical style from 1815. It lies at some distance from the road, as it is probably the successor of a hidden church. The mennonites had churches at the same location since 1695.
This medieval house, with its facade in manneristic style from 1612, has been part of the court of justice since 1754.
Go to part 1 2 3 next